The protection of wildlife is CAMRAIL'S utmost concern.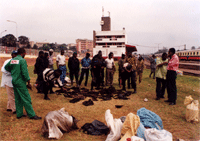 Ame seizure at the Yaounde train station.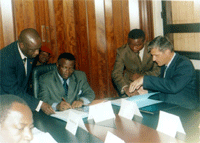 Signing of the MINFOF – CAMRAIL convention, on the 19 th of December 2006 by his Excellency the Minister of Forest and Fauna and the Administrative , General Manager of CAMRAIL
The Government of Cameroon through the Ministry of Wildlife and Forestry and CAMRAIL has undertaken to promote a harmonious- platform, reliable and transparent with a view to eradicate the commercialisation, the use and the transportation of wildlife products through sensitisation, training, the control of luggage and parcels of all travellers by train (both passengers and workers) and the administrative follow up of litigations in CAMRAIL'S zone of intervention.
After signing an agreement with the view to eradicating the transport of Wildlife products by train on the 13 of July 2001, the Ministry of Environment and Forestry (MINEF) this date the Ministry of wildlife and Forestry (MINFOF) and the Company CAMRAIL met again on the 19 of December 2006, to sign the revised document of the aforementioned convention with a view to reinforce and intensify the fight against poaching in general and the transportation of wildlife products by train in particular.
By this convention, the signatories are bound by some obligations, namely :
On the part of MINFOF
Re-enforce personnel and logistics in forestry posts found along the Railway line ;
Put at the disposal of CAMRAIL a full time supervisory staff and a control team in charge of patrol during control and search operations;
Participate actively in sensitisation campaigns ;
Train CAMRAIL workers on wildlife laws enforce in Cameroon ;
Carry out all legal follow-up of any offenders in conformity with the regulation enforce and also assures the follow-up of all litigations ;
Request the Ministries of Defence, Transports and the delegation of National security each in the domain of their respective competence to: assist the workers of the MINFOF, the elements of the special branch of the CAMRAIL police unit and CAMRAIL workers during control and search operations- work in synergy with other sectors in the fight against poaching ;
Proceed to arrest any defaulters when necessary ;
Work towards the suppression of all game markets around Railway stations especially the one in Yaounde.
On the part of CAMRAIL
Contribute to the eradication of the transportation of wildlife products in collaboration with the state of Cameroon and those Communities living along the rail line ;
Carry out in collaboration with the MINFOF, sensitisation campaigns of Rail workers and the population living along the Railway Lines ;
Authorise any control missions on board trains and in the Railway stations by the workers of the MINFOF designated for the purpose ;
Punish CAMRAIL workers caught transgressing any measures taken against poaching ;
Put at the disposal of the workers of the MINFOF, the essential logistics: offices in the Yaounde, and Belabo Railways stations and asses to communication facilities.